Sonic Extraction and Metal Beakers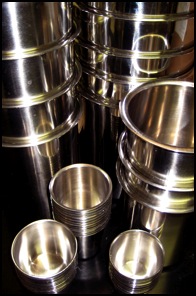 Ultrasonic water bath cleaners are used to extract microfossils from artifacts such as ceramic sherds or lithic tools. The tools must be placed into containers inside the sonic bath, and the type of container you use will affect your results.

Sonic cleaners do not function effectively with plastic. For those of us who work with microliths, this is an unfortunate reality because you cannot sonicate the tool within the centrifuge tube to eliminate extra steps. Glass beakers work fairly well, but if you are working with stone tools, you risk breakage and additional expense with continual use.

The ideal containers are metal beakers which transmit the sonic waves, are easily cleaned, and are unbreakable. They are, however, exceptionally expensive if you buy them from lab supply companies. I recommend looking for stainless steel bain maries, baba molds, and sauce cups at restaurant supply companies where you will find the same products at about 1/20 the cost.



If you have found the material on this website useful, please consider making a donation. An amount as small as $10 or $20 helps keep the website operational so we can continue to share information.